The Night Riders – A Final 4 Men Orgy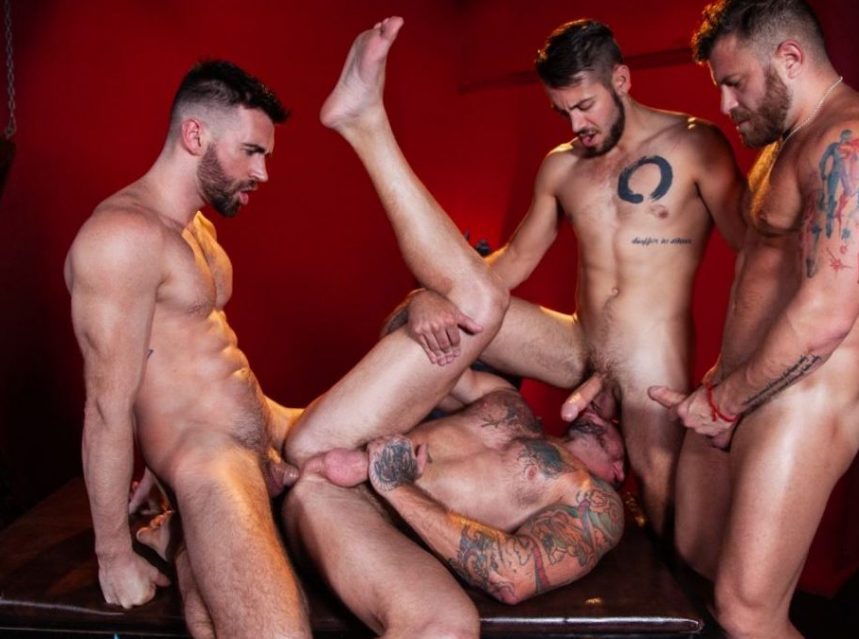 The long awaited end of the story of The Night Riders
After 3 hot episodes, Raging Stallion's "The Night Riders" ends with a brutal gay orgy with Woody Fox, Sean Duran, Riley Mitchel and Dante Colle. What happened so far? In the first episode motorcycle mechanic Riley Mitchel was rough pounded by Colby Tucker and Jason Vario. What we have not noticed is that the two men have turned Riley into a vampire by the demonic semen they poured into his mouth.
In episode 2 of "The Night Riders", Riley already felt himself different and sought solace with father Woody Fox. Unfortunately, father Fox only helped Riley with his big cock. When Riley finally turned into a vampire, he hurried to morph his colleague Nicholas Ryder. In episode 3 Nicholas had sex with Dillon Diaz, who was also turned into a vampire. The epidemic spread, with the bikers in the city one by one turning into nocturnal creatures.
Then Father Woody Fox decided he would conduct a special ritual that would make Riley human again. He sought help from his spiritual brethren Dante Colle and Sean Duran, because a 4 man orgy was needed for the ritual. That's how we reach the final – the great ritual of rescuing Riley. The ritual starts with Riley, surrounded by the three men. He has to suck their cocks in order to show his reconciliation. For the second part, he must be fucked by the Fathers. What they do not know is that Riley is a powerful demon, so their brains will become subordinate to his one very soon. Instead of rescuing Riley, the Fathers end up in the center of a demonic foursome. Their bodies indulge in lust, and their complete makeover will occur as soon as they cum. Apparently they are doomed to join the night riders.