T. Wilcox Barebacks Ray Dalton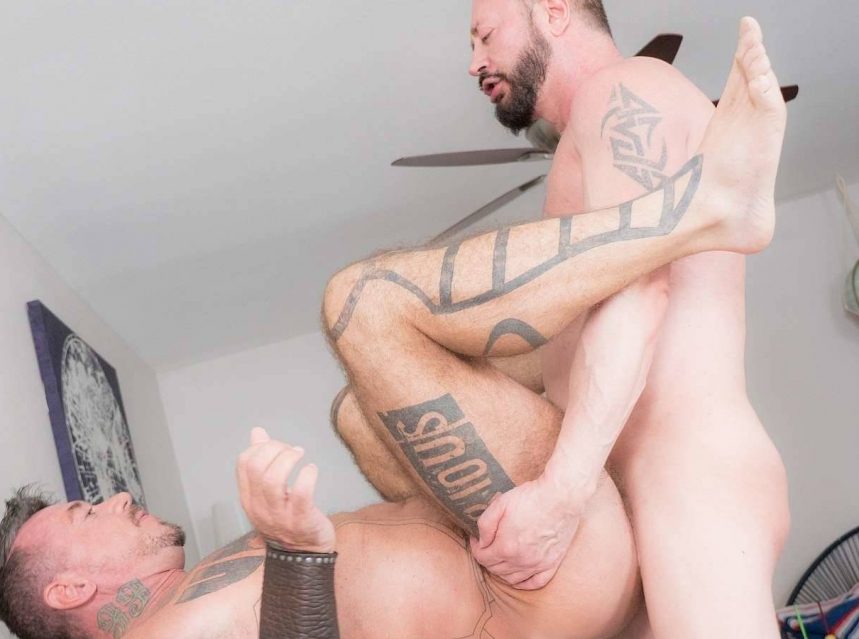 Ray Dalton and T. Wilcox are a pair of noisy fuckers. No, we don't mean they're loud or obnoxious, like crass party guests crashing a black-tie affair. We're talking about the noise we make when we're having sex. Like the song from Avenue Q says, "You Can Be As Loud as the Hell You Want (When You're Makin' Love). Ray and T definitely subscribe to that philosophy but these two aren't making love. They're giving in to their most base desire and fucking like animals. They do NOT believe in keeping quiet and from start to finish, these sexy tattooed and painfully hung daddies are all about tuning in to each other, giving in to their primal urges and don't give a shit about their surroundings.
And they take their sweet, mother fucking, ever loving time, too! T pumps Ray full of cock, stretching him out and open with that fat slab of daddy meat. THIS is what it sounds like when demons fuck.