Like Father Like Son – Titan Men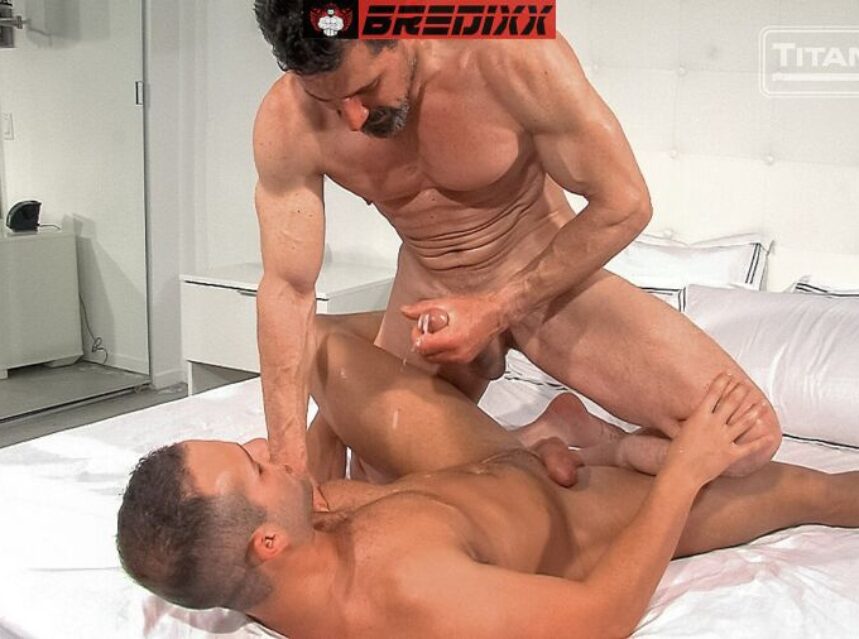 Big dicks run in the family in Like Father Like Son by Titan Men. That's why two best buds make a dare to fuck each other's dad. TitanMen's legendary superstar David Anthony returns to take control of the situation in Like Father …Like Son, a generation gap scorcher where boundaries are quickly crossed.
As they take turns sucking each other's big jock cocks, toned Caleb King and tan Luke Adams are interrupted by Luke's dad Casey Williams. They zip up and head out for practice, but Caleb's dad David Anthony shows up with his son's bag. Left alone in the kitchen, the two dads give in to their urges.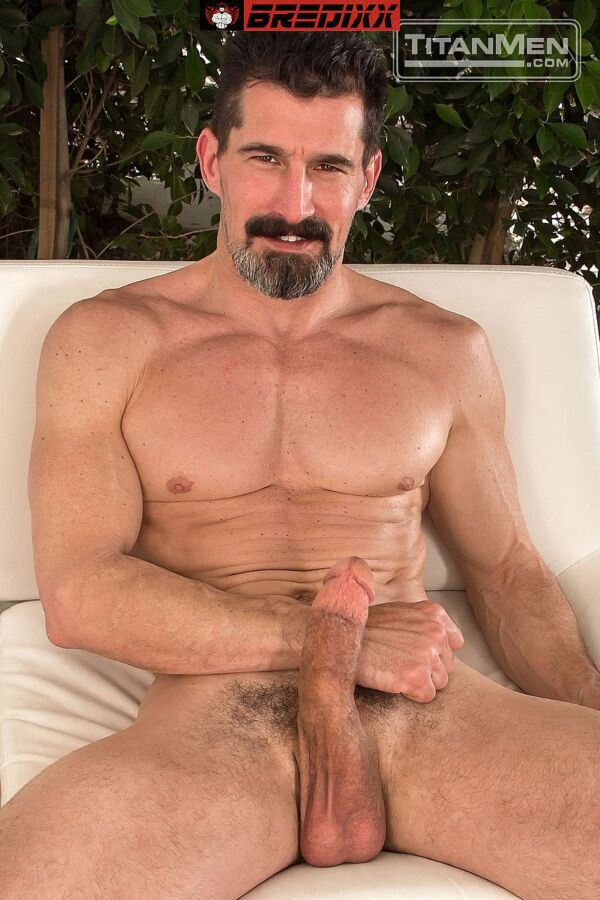 David's salt-and-pepper beard and mustache are wrapped about Casey's thick shaft, the sucker's nose hitting the muscle dad's pubes. Casey snaps his cock up in David's face, the sucker stroking his huge meat as he milks and gulps Casey's veiny shaft. The two kiss as their cocks slam against each other in hot swordplay, Casey soon on his knees as he tries his best to swallow David's beast. "Tug those nuts," directs David. "So fucking good!"
David eats and fingers Casey's ass before fucking him from behind, Casey pushing his boner down to show it off as he gets entered. Meanwhile outside, Luke and Caleb stroke their big boners side by side as they watch and listen to the action. Casey takes it on his back as David's abs, chest and shoulder muscles tighten as he fucks him – the four studs soon firing their big, creamy loads. After making a dare to fuck each other's dads, Caleb shows up unannounced at his bud's home, surprising Casey.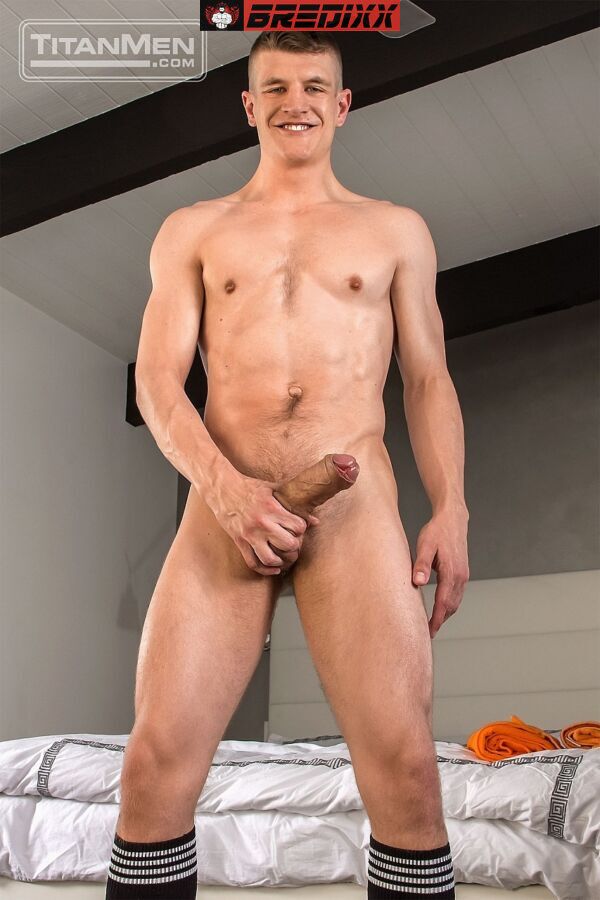 "I want you to teach me how to fuck your ass," says the young jock, the bulge in his shorts grabbed by Casey. ("Big," he smiles. "Just like your dad.") Casey slurps up Caleb's uncut cock, gripping the jock's sac as he sucks. In the bedroom, Caleb returns the favor. "You really know how to fucking suck dick, man," says Casey. "You suck my son's dick like that?" Caleb stays rock-hard as he sucks, his huge dick head peeking out of his foreskin.
"You wanna learn how to fuck like a man?" asks Casey. ("Hell yeah!" replies Caleb.)" Casey's tongue and cock are soon deep inside Caleb's hole. They switch positions, Casey's pecs shaking as he gets plowed on his back. "Fuck, your ass is so tight…" says Caleb, the two releasing their wads. As he showers outside, David spots his son's best friend Luke watching him ("Wow, you're even bigger than Caleb!") before joining him under the water. They kiss, cocks rubbing each other, as David guides him down: "It's okay if you gag on it," he whispers.
Luke engulfs it ("Good boy," compliments David), soon gasping for air. ("Fuck, that's a huge dick!") David sucks him back, taking Luke all in. David gets his dick worshipped again, Luke grabbing hold of his legs for support. David kisses him, their foreheads touching before the alpha grips his own balls and feeds them to Luke. David sucks him back, then heads to the bedroom to warm up the boy's ass.
David gets it nice and wet, sniffing it as he eats ("Fuck that's so sweet!") before sliding his huge cock in. Luke buries his face in the sheets, gasping "Your dick is so big!" Luke sits down on David, the boy's boner frantically bouncing around as he rides David's mammoth cock. Luke gets on his back, moaning "Fuck yeah, daddy! Gimme that cum!" as they shoot."