James Dean Gets Literally Drilled By Tony Parker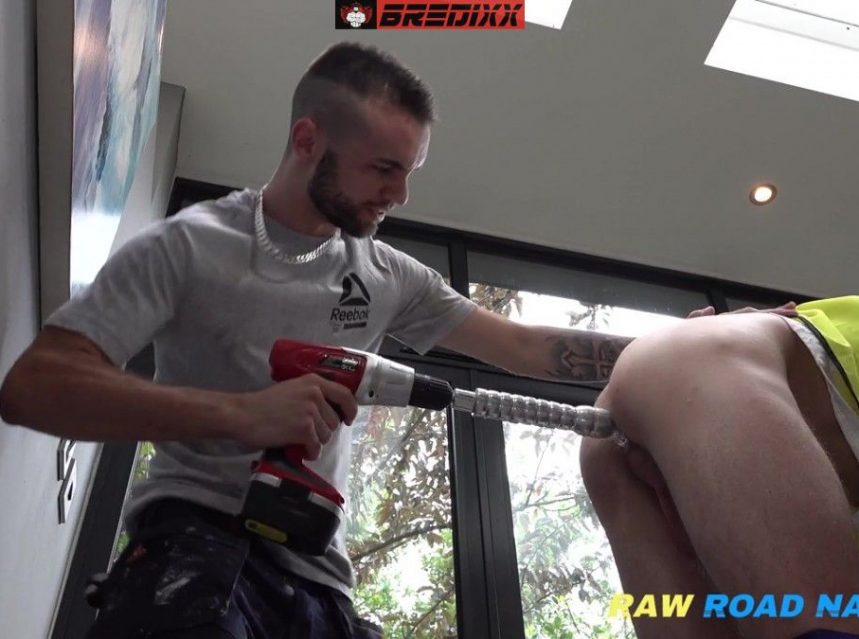 Here's a pretty nasty update by Raw Road Nation. Power bottom James Dean sucks 2 big cock before Tony Parker barebacks him and fucks his ass with a true driller. Here's what the owner of Raw Road Nation shared: During my fag break I catch Two of my lads at it whilst outside doing some decking sucking each other off!
But I know Tony Parker has his special tool in his tall bag which he uses to make a guys hole bigger and most fukkas can't walk after being drilled by it, so I thought I'll get him to use it in his young apprentice's arse as he is a little mouth cocky cunt…. The little fucker was gagging for it and after sucking tony's huge uncut knob he bent over to get his induction into the horny ways of the building World.
And what's better than Tonys power tool giving his man-ring a great stretching for all that is to come for the new lad's hole in training. What makes it even hornier is he smothered the young lad's own spunk all over the drill head and then rammed it back into that little cunts arse. Induction complete when he was left DRIPPING with cum and a red raw freshly tooled hole. He was a trooper having 3 loads drilled into him during a fag break…. after work he will get a serious tradie welcome.