Global Outbreak: Aidan Rose, Marcus Rivers, Dolf Dietrich & Dallas Steele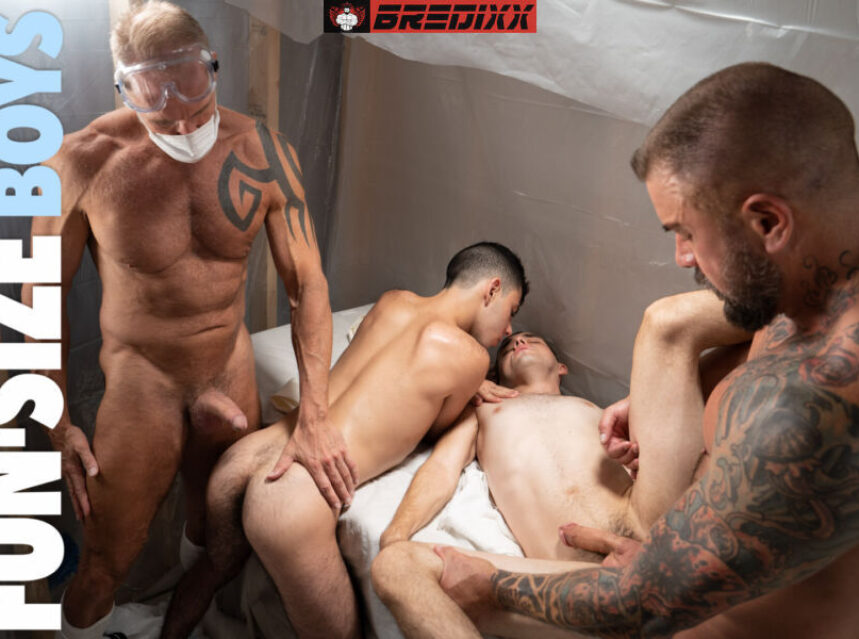 Aidan Rose, Marcus Rivers, Dolf Dietrich, and Dallas Steele star in Global Outbreak by Fun Size Boys. We're back in a dystopian parallel universe where a group of horny scientists are using twinks to find the cure for a virus. The scientists are tall and the twinks are tiny. Marcus and new boy, Adrian are led into a polythene-lined examination room where they're ushered to a table, covered in oil and massaged sensually by Inspectors Steele and Dietrich. The boys are entirely naked. The inspectors are dressed, head-to-toe, in PPE. Adrian, though only 5'5″, with the cutest little face, has the body of a fully-grown man. The oil glistens on his dark chest hair.
Marcus and Adrian are rock hard in seconds and kissing each other passionately. Inspector Dietrich gently pushes a rubber-glove-covered finger into Marcus' hole. Marcus moans. His body shakes in ecstasy. Dietrich pulls Marcus onto the floor and runs his slippery tongue over and into the twink's quivering tight hole. Moments later, he sinks his huge, daddy-dick into the boy. The more Marcus moans, the harder he gets it. Dietrich pulls out so that Inspector Steele can take over. Steele is horny, and ready to shoot, so he thrusts hard and fast. Dietrich lifts Adrian up and slams him back onto the table with his hard dick inside Marcus' hungry mouth.
Steele cums deep inside Marcus before pulling out and suggesting Dietrich follow suit. Dietrich pushes his giant meat into Marcus' now sloppy hole and instantly blasts a big load into the boy. What goes up must come down and the semen slowly trickles out of Marcus' ass. But this is a scientific study, and it's vital that this particular bodily fluid is immediately pushed into Adrian's hole. How else will we find that much-needed cure?