Lucas Franfreich and Pytter Fox flip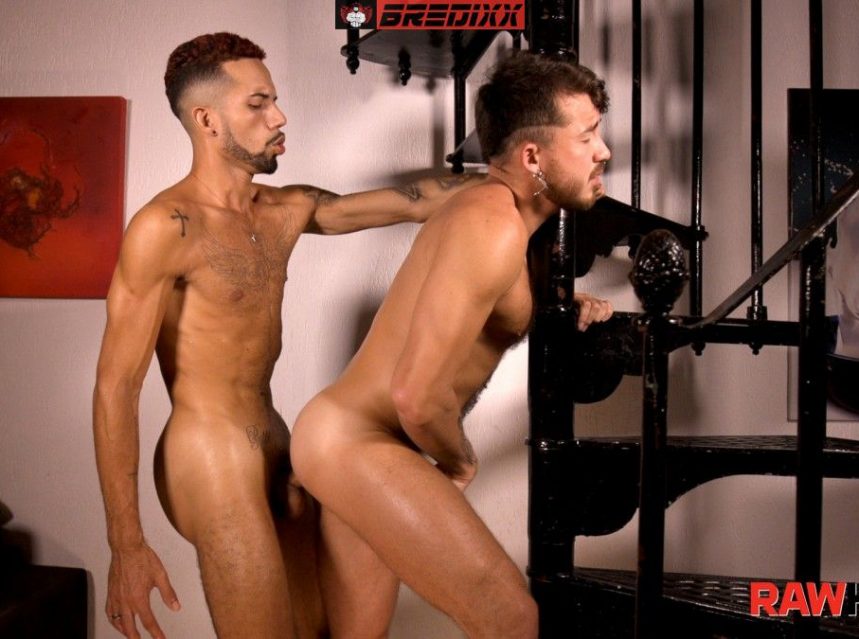 Lucas Franfreich and Pytter Fox flip for Raw Hole. They immediately smooch and grab each other's gonads. The tips of their rockhard cocks are touching as the camera pans down. Lucas gets on his knees and pays homage to Pytter's monster cock and low hangers. Once his cock is wet and bouncy Pytter returns the favor, taking Lucas all the way to the short fuzzies.
Pytter steps one step up on the stairs and Lucas buries his face into that smooth brown ass. His broad tongue works Pytter's crack and tight pucker. He plows into Pytter's spitlubed hole, nuts smacking the hot young stud's asscrack. Now Pytter's sex drive is turned up to "11". He grunts out to Lucas, who bends over to get his own booty rammed. Grabbing the iron frame of the staircase, Lucas braces and backs into Pytter's every thrust. He starts beating his upturned tool. Pytter speeds up and plows harder, pulls out just in time to splatter Lucas' butt with a thick layer of creamy load. Lucas squats over Pytter and lets his own sticky splash rain down into the hot Latino's face.