Leatherman Dolf Dietrich Destroys Hugh Hunter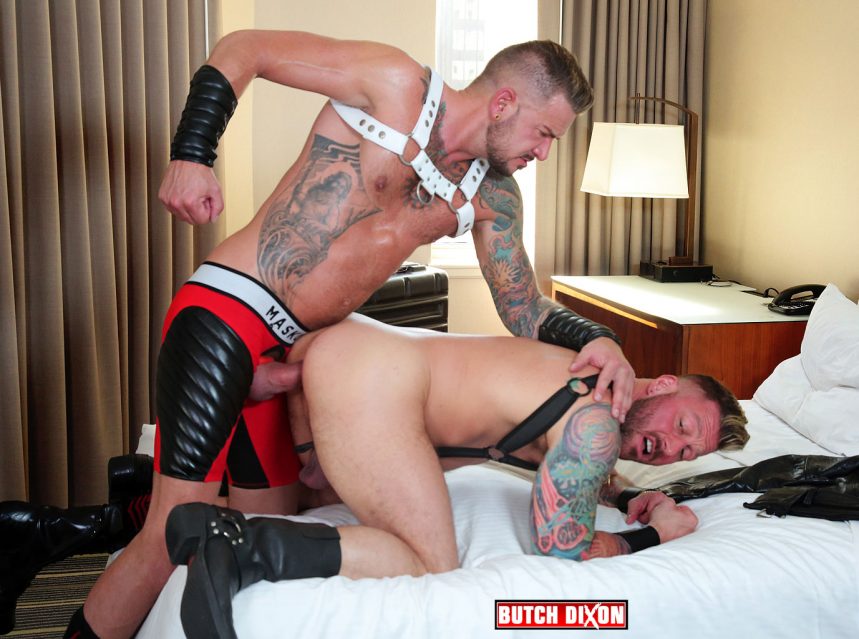 Leather, muscled tattooed men, and amazing bareback action. Enjoy Dolf Dietrich and Hugh Hunter! There's no messing about here, you can take your finger off fast forward, we're straight in there for pure, nasty, fuckery. Holy Dietrich is looking splendid in leather and boots whilst delicious Hugh Hunter is  upon his back, exposing his juicy raw hole to be spat and slobbered on, spit lubed for raw dick, and thats a beefy, girthy, meaty joint Dolf is sliding right on up there.
Just watch that tight hole ripple and pull on the shiny tool. Hugh's legs are right up, but Dolf wants deeper so turns him over and fucks him like a pig/dog, ramming his raw length balls deep in his fuck-chute. " Cum in my fucking hole" Hugh begs….. but we wanna see the first splash all over those golden globes!