Kasper Hauser – Private Gay Pissing Slave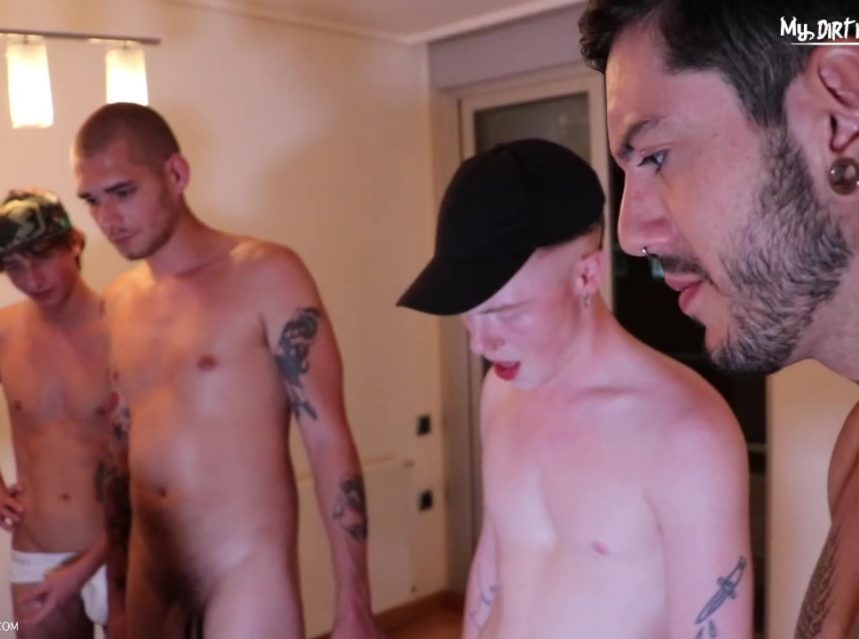 The guys from My Dirtiest Fantasy have a very wet surprise for Kasper Hauser. They make him their private gay pissing slave.
Young Russian stud Casper Hauser is turned into a private gay pissing slave by four horny men. Kasper has long wanted to shoot in a movie. The young Russian has so far applied for actor in many studios, but without success. Today he is lucky because he receives a response from the studio of My Dirtiest Fantasy. It seems that Kasper will eventually participate in real production. The guys from the studio have written to him that they are looking for a model like him for filming their newest movie. Kasper accepts with joy and explains that he is eager to see the producers.
So, one late night, he walks in the park, expecting the producers from the studio. They wrote to him that they would be waiting for him at the central promenade at midnight. Eventually the time comes and the producers appear. They explain to him that in his first scene he will be the bottom of the famous artist Alexis Clark. Kasper is really more than happy to hear that. Alexis Clark is one of his favorite actors and he can't wait to meet him.
Producers have not yet told Kasper's whole truth. It looks like the scene is completely different. Besides his favorite model, in the apartment where he was taken, there are three more men. Apparently Kasper will have a lot of work tonight. Serving four horny pigs is difficult, but the young Russian love the challenges. So he opens his mouth wide and starts to rotate the dicks around him, sucking them with great satisfaction. For the time being, it looks like an ordinary gay orgy, but soon afterwards the men carry Kasper into an improvised bath and start to piss on him. Casper does not resist, because he really likes gay pissing. Once they are relieved, Kasper begins to suck their sticks again. At the end of the scene, he is covered from head to toe with piss and cum.