Enchained: Cesar Xes, Angel Duran and Dominic Pacifico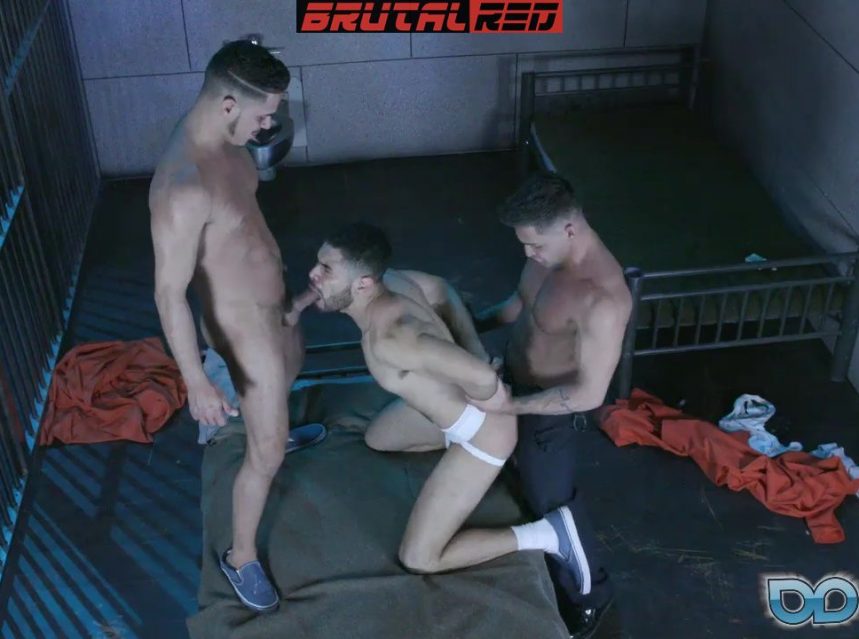 While Cesar Xes is relieving himself his inmate Angel Duran uses the moment to steal a pack of cigarettes. Of course, Cesar notices the theft immediately, which leads to a series of scandals. The security guard Dominic Pacifico hears the screams and goes to the cell to check what is going on. After Cesar tells him about Angel's act, Dominic decides that the thief should be severely punished. "After you love smoking cigarettes, you will now have to put something thicker in your mouth", he says to Angel.
Cesar and Dominic pulls their dicks out and force Angel to suck them. Dominic shoves his dick in Angel's mouth as the young prisoner takes the dick down his throat. Cesar also needs a turn, so they flip and Xes proceeds face-fucking his inmate. Meanwhile Dominic stands behind Angel and inserts his bareback member into Angel's asshole. Filled with cocks on both sides, Duran is moaning in pleasure, as each thrust makes him harder and harder. Then, Dominic and Cesar exchange their positions. Some more fucking and the two tops are ready to drench Angel in cum. Cesar pulls out and spits his jizz onto Angel's butt. Pacifico shoots his load onto Angel's belly, before he pushes his fat member back inside Angel's fucked asshole.