Brazilian Beach Barebackers: Patrick Garcia & Kadu Silva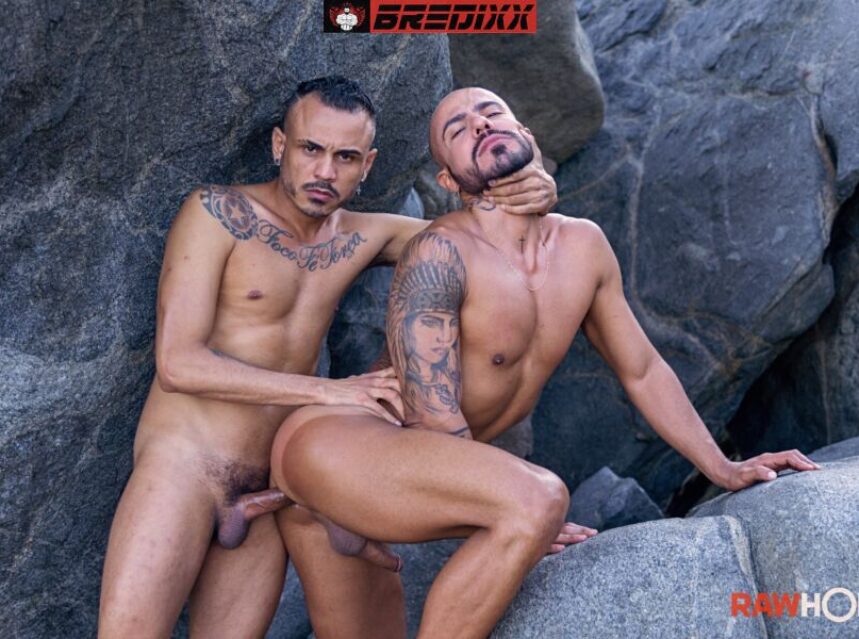 What could be more fantastic than bronzing your naked body on a warm, sandy Brazilian beach? Duck behind some massive boulders where Patrick Garcia and Kadu Silva are busy grabbing each others' gonads, and find out. Both muscle studs are making out and running their greedy hands across each others' asses and stiff packages. When Kadu leans against one of the boulders and lifts his woody, Patrick drops to his knees and starts worshipping. He gets down Kadu's thick tool with a gag, then Kadu grabs him by the scruff of his neck and pulls his face down onto the throbbing stiffy.
He rams his cock all the way down Patrick's throat, then yanks it back out. He fires a gob of saliva down Patrick's hungry throat and kisses him again. Patrick's ass is fired up and ready for action. He leans over the giant rock and bobs his booty in Kadu's face. Kadu slurps and smacks at the big muscular butt, His hands pulling Patrick's cheeks open for a deeper lick. With nothing but a thick wad of spit for lube he drills his dick in raw.
When Patrick's impassioned vocalizing gets too loud, Kadu smacks his face. Patrick lies back on a patterned beach spread and lifts his legs wide open. With a muscular pec in one hand and a thick thigh in the other, Kadu drives in balls deep. Patrick starts beating his cock faster. Kadu's crotch slaps into the moist crack of Patrick's butt as Patrick starts to splatter his load. As Kadu adds his spray to the sticky puddle, Patrick scrapes it up and eats the creamy reward. Kadu fucks back in to shoot his last spurts.