Adam Ramzi Fucks Tayte Hanson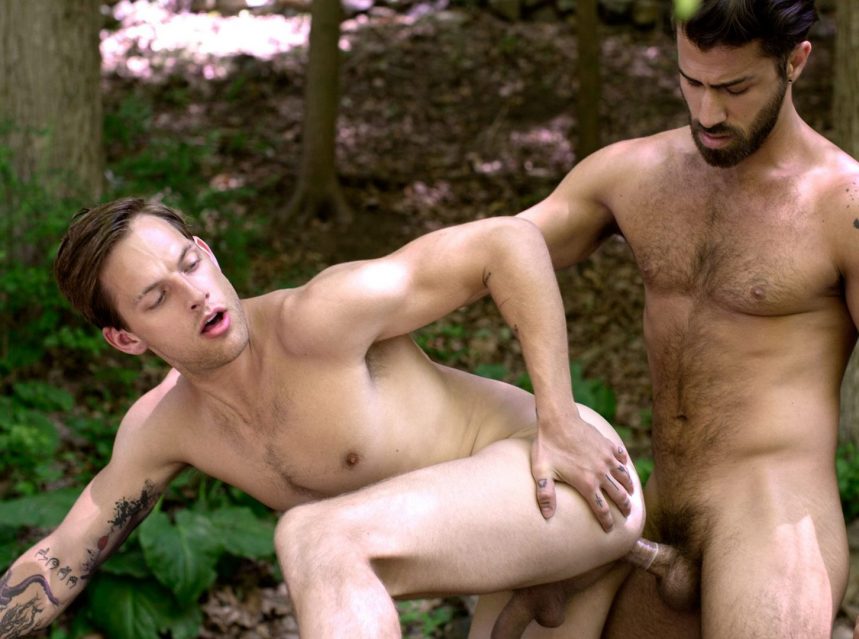 Adam Ramzi & Tayte Hanson just can't get enough of this beautiful summer weather. They are always outside, exploring the woods (and their bodies), and by the looks of it – having a blast! Actually, two blasts… of cum. But more on that later.
Tayte is the first one to get down on his knees which is probably due to the fact that as soon as his hands got a hold of Adam's rock hard cock his knees got weak and it just makes sense to give in to the feeling and start sucking. Adam's big curvy cock seems to fit perfectly into Tayte's mouth but it fit even more perfectly into his ass for which Adam seemed to be really excited about! So he turns Tayte around and starts to work his finger magic on Tayte's ass and sure enough Tayte melts down on the ground and all he can say is "God damn, that feels so good!!" as Adam shoves another finger up Tayte's hole. After a while it only makes sense to replace those fingers with the real thing so Adam puts his cock balls deep inside Tayte's ass and start plowing away. From then on no tree or rock is safe from these two. They fuck all over the place like two animals that have been just released out of their cages. Wait until you hear Adam groan as he shoots his load! We don't do animals on our site but these two are the closest it gets to it.