Franklin Acevedo Barebacks Oscar Marin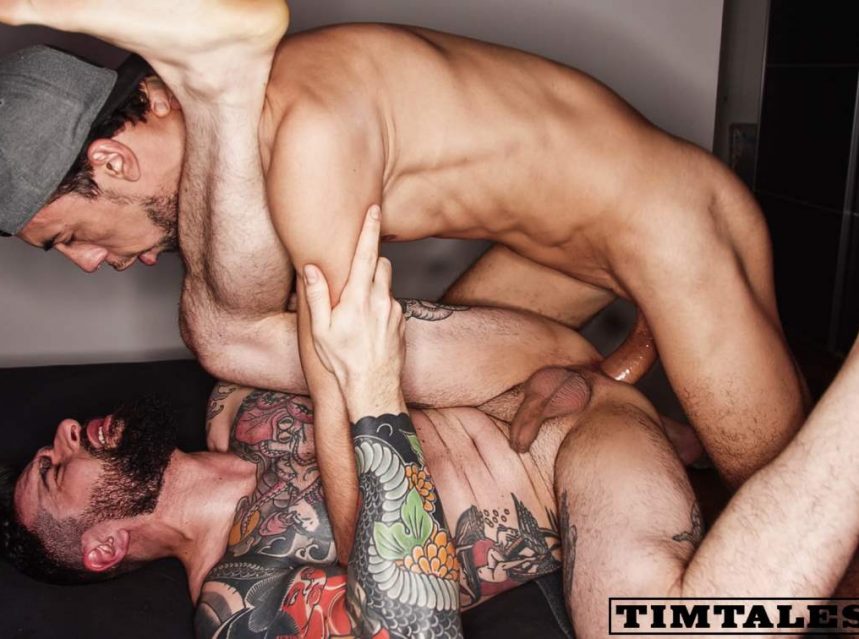 Tattooed, bearded hunk Oscar Marin takes another big cock up his ass.
A very hot fuck session in Barcelona again. Two of our super favorites, Franklin Acevedo and Oscar Marin are finally getting together to shoot an extra hot bareback scene. It's a dream come true for both of them. On the one hand Oscar is incredibly attracted to Franklin and he wants to feel his large cock inside his ass for over a year now. On the other hand, Oscar is exactly Franklin's type of man. He loves beefy men, beards and tattoos. And Oscar is definitely all that.
We're going to give you a secret. Usually filming is a slow and difficult process. Models often need additional stimulation, frequent pauses, etc. This is perfectly normal, so we are accustomed to this fact. Franklin and Oscar are, however, an absolute exception. From start to finish, the camera just filmed. The passion was incredible, and they didn't stop for a moment. Really, these two were enjoying themselves, completely oblivious of the team surrounding them.
Now, let's go back to the actual action. The scene start with Oscar greedily sucking Acevedo's massive boner. Oscar does it with such pleasure, we are not even able to compare it with anything existing. We don't have to say that Franklin was very hard from the start, so they could miss sucking but Oscar really wanted to feel that cock in his mouth.
After that, the two stallions finally start fucking. Franklin glides his bareback cock in Oscar's muscle butt and proceeds hard fucking. They do it doggy style for a while. Then, Oscar turns on his back and Franklin spreads his legs wide. He penetrates Oscar again, sliding his meat up to the balls inside the ass. After about 30 minutes of extreme bareback plowing, Franklin pulls out and cums all over Oscar's perfect butt.