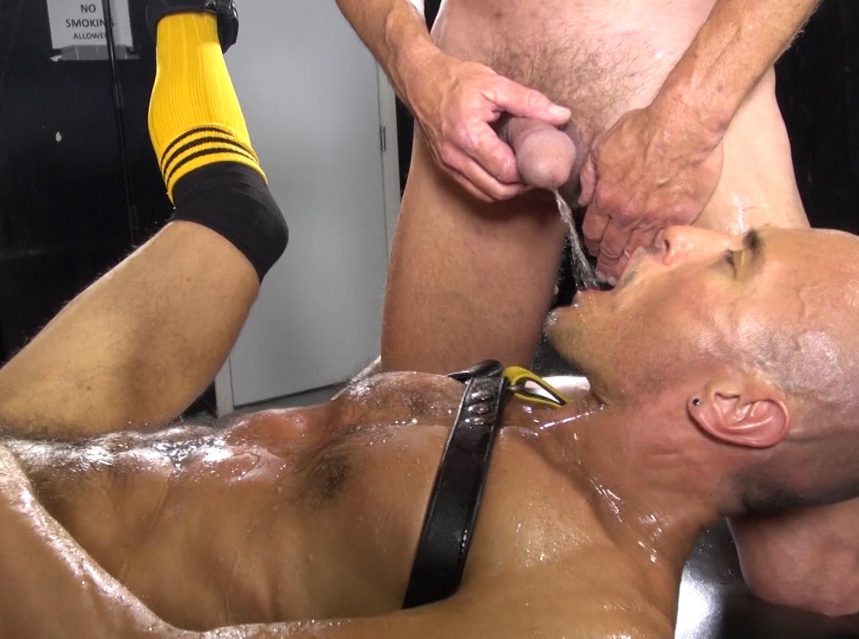 Slutty pig bottom Jayson Park sneaks off into the members only sex room to jerk his cock and play with his hairy hole. Clark Longhammer and his Muscle Daddy Dikk Clark walk in and catch Jayson jacking off and fingering his tight, hairy hole. Clark takes over getting Jayson's hole nice and wet with his long tongue.
Daddy Dikk holds Jayson down, beating and slapping him, while Clark rams his tattooed cock up Jayson's hair covered ass. Daddy Dikk wets down the bottom slut with a hot stream of piss that Jayson drinks to quench his thirst. Clark gut punches Jayson, sending the piss that has puddled up on Jayson's abs flying into the air.
Clark fucks Jayson hard and fast 'ti he blows half his load onto Jayson's cock and deposits the rest up the greedy pig's fuck hole. Clark finally allows Jayson to get off, finger fucking his cum filled hole while he and Daddy Dikk bite and twist Jayson's hard nips.
Jayson rewards the two hard working studs with a big creamy load that he is made to eat by Clark. Sometimes it pays off to be a sneaky little bottom pig!