Brendan Patrick Fucks Leather Bear Sterling Johnson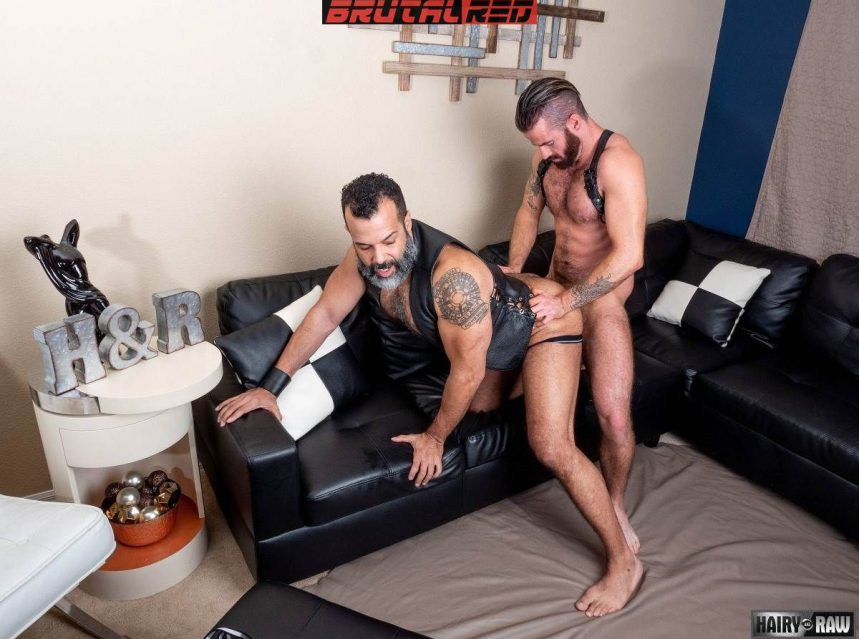 A gay bear in leather and a raw cock shoved in its hairy ass. What a great scene. Furry daddy Sterling Johnson gets his hole serviced by Brendan Patrick's bareback cock!
Brendan Patrick always loved furry gay bears, so he recently married one of them. Sterling Johnson is the man of Brendan's dreams because he possesses all the qualities that Brendan has ever sought. Sterling is the typical bear – with a plenty of body-hair, with a bubble butt and some good tattoos. The first months sex was great, but lately they both feel slightly tired of the standard things they do. Apparently they have to solve the problem if they really want their relationship to be successful.
Brendan Patrick has an idea for a little kinky sex. He is worried to share it with his husband, so he decides to take him to a nearby store and give him the chance to choose whatever he wants. Sterling Johnson stays long around the showcase of leather clothes, so they obviously think in one direction. Sterling puts on one of the leather jackets, asking Brendan whether he likes what he sees. Brendan confirms. He then chooses a black harness for himself. Equipped with the necessary things, they come home.
They hurry to put on their leather clothes and start to see if things really get so good. Finally, Sterling Johnson shows on in his jacket. "Leather on gay bear, it's really cool" things Brendan Patrick. Already horned up he positions himself behind the bubble butt and begins to rim it and finger fuck it. Sterling then sucks his husband off, making his bareback cock rock hard. Eventually, Brendan pushes his cock inside the hairy ass. He proceeds raw breeding, pumping Sterling bareback. They both end with multiple cum filled climaxes.